Ready to experience the green hills getting changed to blue? Yeah, June is already up and this is the right season for the Neelakurinji flowers to bloom up. The most expecting, surprising and majestic flower is set to bloom after 12 years. The last bloom happened was in 2006 and now its again the right time to feel the vibes all over Munnar.
Why is Neelakurinji Flower Unique?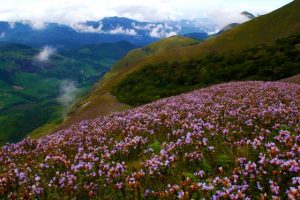 Though there may be a number of cascading waterfalls, grasslands filled with mind-blowing flowers, expressing valleys all around the world, the blooming of Neelakurinji flower are always special.
Nothing can beat the exclusivity of the Neelakurinji flower, this flower blooms only in Munnar and therefore makes them more determined. You can find these plants in other southern hill stations but at Munnar, the flower blooms magically profuse across the green mountains.
Neelakurinji flowers are the top and centerpiece of attraction during their bloom, the flower makes the place all around to be so real and the blue color makes people captivating and appealing.
Which is the right time to check out the Blooming of Neelakurinji Flowers?
As we discussed earlier, the flower has bloomed before 12 years ago in 2006. It's already time for the flower to bloom up so do not miss this chance ever as you will find the next blooming up of this Neelakurinji flowers after 12 years.
When considering the Neelakurinji flower season they coincide and ties up during the spring season, you will find the flowers start blooming by the monsoon (last phase), and then slowly you will check the valley going blue from green.
The time of blooming takes place between the time period of July and lasts up to November. Its sure that the flower is going to be the main concept in social media and undoubtedly everyone is going to be crazy for their captivating look.
Facts on Neelakurinji Flower
There are more than 46 different Neelakurinji flower varieties and 250 kurinji species all around India and this will include Blue, Maroon, red etc.
The flower called as Neelakurinji is a Malayalam word and this determines the blue flower, 'Strobilanthes Kunthianus' is the scientific name for the flower.
The nectar gathered during the blooming season is filled with nutrition and has a special taste.
Paliyan people of Tamilnadu use this flower to determine their age.
If you have planned for a trip and ready to explore the blooming Neelakurinji flower then its must you should have some arrangements before as most of the resorts, hotels, vehicles etc will be fully booked.
There are so many people who fails to pre book rooms, right travels etc and face a lot of challenging situations, even there are people who have returned back without visiting the place. Always pre book so that you never have to worry about missing the beautiful neelakurinji flower blooming up.
Make sure you have the right plan so that you can enjoy the colorful Neelakurinji flower blooming with ahh effect, for pre-booking rooms you can contact us Breezy Holidays and have a great trip. For Hotels/Resorts/Cottages booking contact: +91 9500997733 (or) +91 9445222330, Email: info@breezyholidays.net